text.skipToContent
text.skipToNavigation
0
Products to compare
Compare
Clear
ISO/IEC 17025 Accredited Weight Calibration Services
Troemner's Accredited Weight Calibration Services
Troemner has been providing the highest level of quality weight calibration services for over 180 years. We possess the technical expertise and quality customer service that is essential to implementing a successful weight calibration and Metrology service. We are committed to reducing costs, increasing efficiencies, and improving quality for the continued support of our customers.
We can calibrate weights to the standards of all primary weight governing organizations, including: ASTM International (Formerly the American Society for Testing and Materials), OIML (International Organization of Legal Metrology), and NIST (National Institute of Standards and Technology).
Our commitment to weight calibration services is to return your weights within 8 calendar days after the completion of contract review.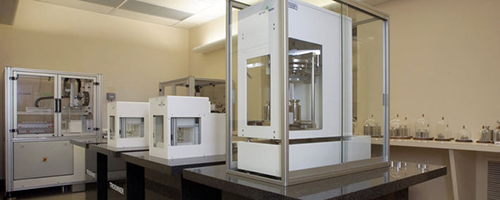 Lowest Reported Weight Uncertainties
Troemner's weight uncertainties match or exceed most national laboratories, and are second only to NIST. We strive to provide our customers with the lowest weight measurement uncertainties achievable, made possible through a combination of industry expertise, progressive weight calibration philosophies, and cutting-edge mass comparator robots. Reference the chart below and see how Troemner offers the lowest uncertainties for some of the most popular calibration weight values compared to other weight calibration companies.
Weight Uncertainties (Comparing Best Measurements Among Competitors)

Mass

Troemner Advantage

Troemner Uncertainty NVLAP* 17025

Rice Lake

(Rice Lake, WI)

Transcat

(Philadelphia, PA)

ICL

(Stuart, FL)

ISS

(Lansdale, PA)

10 g

50 g

100 g

1 kg

5 kg

10 kg

141% - 181% more accurate

108% - 181% more accurate

104% - 185% more accurate

31% - 185% more accurate

71% - 194% more accurate

70% - 190% more accurate

1.1 ug

2.2 ug

3.8 ug

35 ug

0.18 mg

0.37 mg

6.4 ug

7.4 ug

12 ug

48 ug

0.38 mg

0.77 mg

6.5 ug

12 ug

25 ug

220 ug

1.3 mg

3.4 mg

17 ug

35 ug

55 ug

400 ug

3 mg

N/A

23 ug

46 ug

95 ug

920 ug

11 mg

14 mg
Read more about Troemner's Weight Uncertainties
People, Experience and Expertise
Our metrology lab is staffed with NIST Certified metrologists and highly trained technicians, which allows Troemner to provide unmatched metrological analysis in the calibration of weights. Over the years Troemner has enhanced its reputation as being the premier company in the metrology industry with ISO 17025 accreditation through the National Institute of Standards and Technology (NIST) administered National Voluntary Accreditation Program, NVLAP. (NVLAP Laboratory Code 105013-0). In addition, Troemner's quality management system is ISO 9001 compliant and regularly audited to ensure we provide the best services to our customers.
World Class Laboratories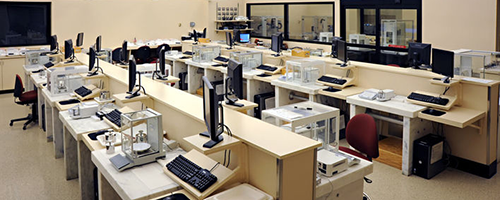 Our weight calibration laboratories have been constructed to create an environment of stable temperature, humidity, low vibrations, and low air velocity. We achieved this by specifically building our weight calibration laboratory as a "building within a building".
Troemner's three Echelon I and one Echelon II calibration labs sit on 30" foundations that are separately isolated from the rest of the building with layers of sand and concrete to eliminate outside vibrations. Additionally, all labs have dedicated HVAC systems, two-stage entryways, and 12" vapor barriers to reduce all instances of outside contamination as effectively as possible.
Troemner can calibrate any type of calibration weight class, including ASTM Classes and OIML Classes, from individual weights to weight sets. Including:
Troemner Ultra Class

UltraClass Platinum+

UltraClass Gold++

UltraClass+++

ASTM

Class 000
Class 00

Class 0

Class 1

Class 2

Class 3

Class 4

Class 5

Class 6

Class 7

OIML

Class E0
Class E1

Class E2

Class F1

Class F2

Class M1

Class M2

NIST

Class F
Download our Calibration Weight Tolerance Chart
Read More about Troemner's Mass Calibration Laboratories
Robotic Precision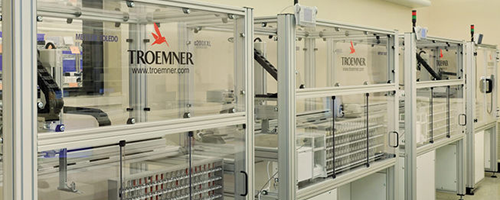 Troemner is also a pioneer and leader in weight calibration robotics and calibration software. We have the largest collection of mass comparators in the world, which process more than 4,000 precision weight calibration measurements each day. Our mass comparators run a proprietary software designed specifically for Troemner, which allows uncompromised analysis of calibration weight uncertainties and masses.
Our recent purchase of seven new robots allows Troemner to provide impeccable service by increasing not only precision weighing, but also efficiency. Our system is constantly tracked to ensure the performance of our equipment and standards are in control. Magnetic permeability testing and magnetic susceptibility testing are incorporated into our processes and utilize a susceptometer.
Calibration Certificate Types
Troemner's calibrations and certificate options are designed to provide the customer a range of choices in measurement precision, quantity of data, and compliance to calibration and quality standards.
NVLAP (Lab Code 105013-0) Accredited Certificate
The NVLAP* Accredited Certificate provides compliance in both measurement process and data reported to the customer to meet a variety of standards including NVLAP Handbook 150-2, ISO/IEC 9000, ISO/IEC 17025, FDA, GMP, GLP, DOD, ANSI/NCSL Z540-1, and nuclear requirements. Troemner's NVLAP Laboratory Code is 105013-0. This NIST administered National Voluntary Laboratory Accreditation Program (NVLAP*) approves, through periodic audits, all processing and weighing procedures, as well as certificate format and content.
Calibration procedures vary by tolerance class requested. For example, for higher accuracy classes such as Troemner UltraClass Series, ANSI/ASTM Class 000, Class 00, Class 0 and Class 1, Class E0*, OIML R 111 Class E1, and Class E2, Troemner performs a multiple weighing procedure utilizing our secondary working standards to determine the mass of a customer's weight.
Traceable Certificate
The Traceable Certificate is designed for those laboratories and companies that require traceability, but do not need to meet any stringent regulatory requirements. The Traceable Certificate measurement process is based on a single standard and utilizes one series of comparisons. This certificate option can be used for the calibration of standard weights.
Read More About Weight Calibration Certificate Options
Download a Sample NVLAP* Accredited Certificate
Download a Sample Traceable Certificate
Weight Calibration Quick Reference
Accreditation
ISO/IEC 17025, Accredited by NVLAP (Lab Code 105013-0)
Laboratory Scope
From 1 mg to 1000 kg (0.000035 oz to 3000 lb) with capabilities from 0.050 mg to 5000 lb
Weights Serviced
Troemner services all types of individual calibration weights and calibration weight sets. These include...
Service Levels
ISO 17025, NVLAP* Accredited Certificates of Mass Calibration
ISO 17025, NVLAP* Accredited Calibrations for Mass Value
Traceable Calibration Certificate
Density Determination
Magnetic Susceptibility Determination
* NVLAP Lab Code 105013-0
+ Troemner UltraClass Platinum meets or exceeds the weight tolerance of ASTM Class 000
++ Troemner UltraClass Gold meets or exceeds the weight tolerance of ASTM Class 00
+++ Troemner UltraClass meets or exceeds the weight tolerance of ASTM Class 0
eco3.loadDocumentLinkComponent();
eco3.loadDocumentLinkComponent();
eco3.loadDocumentLinkComponent();